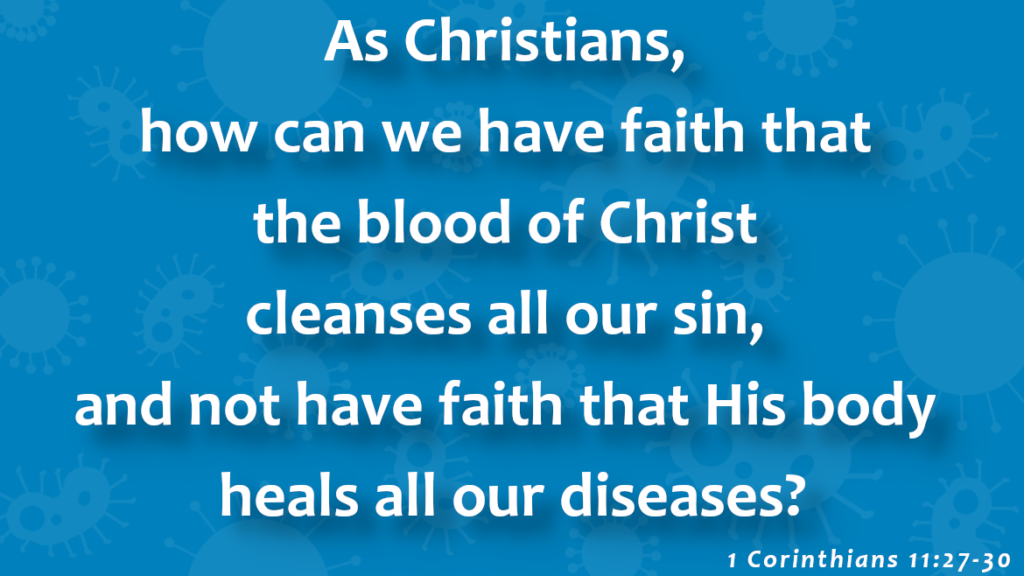 Is it not the same faith?
How can we be confident that He has cleansed us from all unrighteousness, the result of His shed blood; and yet disregard His body that was given to heal?
Which is easier – to say "rise up and walk," or "your sins are forgiven?"
We believe that its easier to have our sins forgiven then for our bodies to be free of sickness and disease. Why? One has eternal significance and the other only temporal.
Surely Jesus was saying that it is much more difficult to forgive someone's sin then to simply heal their mortal body.
1 Corinthians 11:27-30 seems to imply that the reason many of us are sick and some have even died is because we've dishonored or disregarded the body of Jesus. HIs body was broken for our bodies to be mended.
What if we don't believe that? What if we don't think that's true? What if we believe that because of things happening in our natural world, we are weak and susceptible? Wonder if that is the "truth" that we believe, if that will be our experience?
But what if it actually was a lesser thing to say to someone rise up and walk? What if communion is not only about the blood of Christ being shed for the cleansing and removal of our sin, but also His body being broken and the stripes on His back for our healing?
I wonder what life would look like if we had the audacity to dare to believe that just as Jesus forgives sin, in the same act He heals all our diseases. You know, kind of like He did when He walked the earth – healing all who were sick and oppressed.
1 Corinthians 11: 27 – Therefore whoever eats this bread or drinks this cup of the Lord in an unworthy manner will be guilty of the body and blood of the Lord. 28 But let a man examine himself, and so let him eat of the bread and drink of the cup. 29 For he who eats and drinks in an unworthy manner eats and drinks judgment to himself, not discerning the Lord's body. 30 For this reason many are weak and sick among you, and many sleep.